People Also Played

More...
Visit
Elvenar
Games Like Elvenar
Elvenar is a fantasy city-building game that allows you to choose either elves or humans as a starting race. Create beautiful buildings in your city and upgrade them to produce faster the resources you need. Explore the world map, interact with your neighbors and gather relics to boost your production. Will you count on your trading skills or on your mighty armies?
Media Sources
January, 2019
Elvenar
Are you stuck with the game? Need help?
Ask below and we'll try to help out! ⤵️
January 30, 2019
Similar Content
Elvenar
Elvenar - THE GRAVITY INN
► Play Elvenar now: http://InnoGam.es/h92R !

Available subtitles: EN, DE, FR, IT, ES, PL, PT (PT/BR), NL, CZ/SK, DK, FI, GR, HU, NO, RO, RU, SE, TH, TR.

Elvenar Artist Rike, and Lead Community Manager Steffi, introduce to you the ultra special Gravity Inn!

The Gravity Inn is the first building in Elvenar that YOU helped us design! Through a poll, the community voted for the size, the effect, and the theme of the building, and the Elvenar Team brought the results to life! The Gravity Inn was designed accordingly, as a 2x2 building that provides Culture and Population, and who's themed after the Sorcerers and Dragons.

There's a catch however! For such an incredibly powerful building, it is also ultra rare! The Gravity Inn will only be rewarded to very special and engaging players who help out the community—like building a Wiki page for example!

We do give you a tip in the video... Keep an eye out on our Social Media channels and the forums, cause you never know when a different chance to get one might pop up! And speaking of chances—if you're watching this video, you've stumbled upon one of our giveaways!! Follow the instructions and you just might be able to eat a Vallerian Burgers sideways, in the Gravity Inn!

YOUTUBE GIVEAWAY RULES: WIN THE GRAVITY INN!!
1. Like this video
2. Subscribe to this channel (Elvenar Official).
3. Comment below why you NEED the Gravity Inn in your city!



FOLLOW US //
Instagram - https://www.instagram.com/elvenar/
Facebook - https://www.facebook.com/elvenar/


Terms and Conditions: http://smarturl.it/GravityInnYT
January 29, 2019
Elvenar
When we can't find the right words, we find the color!
Thank you, Community Managers! 💚
January 28, 2019
Elvenar
Don't you just ❤️ seeing all those historical buildings in a city?
You can now build your own: http://innogam.es/h2gU ! 🌆
January 26, 2019
Elvenar
#TGIF: How will you spend your weekend in Elvenar?
✨http://hyperurl.co/Elvenar✨
January 25, 2019
Elvenar
Elvenar shared a post.
We have a very special contest on-going on our Instagram channel... to win the rare Gravity Inn building!
There's no time to spare if you want it, so head on over, follow @elvenar, and join the contest!
January 23, 2019
Elvenar
You helped us design it, and now here it is!
The new Gravity Inn can only be won OUTSIDE the game!
Follow @Elvenar on Instagram, and join the first contest to win it: https://www.instagram.com/elvenar ! ✨
January 22, 2019
Elvenar
DYK?
The Elvenar Beta server launched exactly 4 years ago!
THANK YOU all for playing with us for so long! 💙
January 20, 2019
Elvenar
Get your Workshops and Manufactories ready!
New Fellowship Adventure ahead: http://hyperurl.co/Elvenar!
January 17, 2019
Elvenar
How did you like the first ever Craftsman Challenge?
We're eager to hear all your suggestions for future challenges!
January 16, 2019
Elvenar
Do you have any tips for players that just started playing Elvenar?
January 13, 2019
Elvenar
@elvenarcom
What is your dream city like in Elvenar? https://t.co/emex7kG6Z5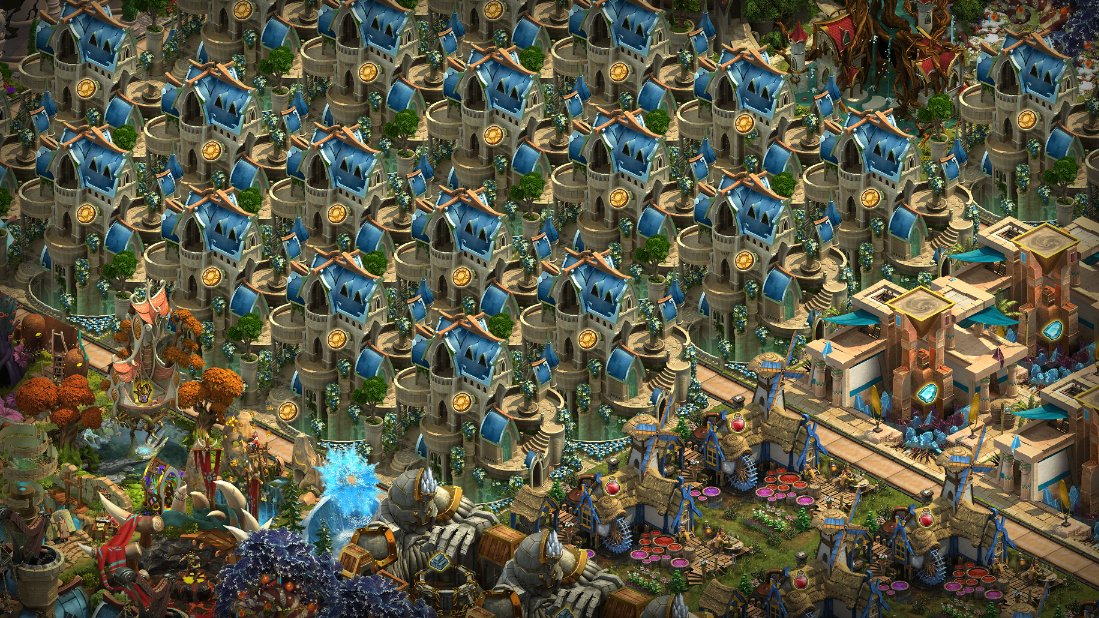 1:08 PM - 11 Jan 2019
January 11, 2019
Elvenar
Describe your ideal Elvenar city in just one word!
January 11, 2019
Elvenar
Are you up for some CHALLENGES: http://hyperurl.co/Elvenar? 🏅
January 10, 2019
Elvenar
We've heard of many great friendship stories in Elvenar.
Did you meet some special buddies in game?
Tag them or give them a shout below!
January 3, 2019
Elvenar
SALE! For every purchase of diamonds you will get some delicacies!
Don't miss out: http://hyperurl.co/Elvenar! 💸
January 3, 2019
Elvenar
We wish you all a Happy, Joyful New Year! 🎆
January 1, 2019
Similar Content
< Newer
Older >